---
| | | |
| --- | --- | --- |
| Back | Handle (Tsuka) Wrapping Service | Home |
---
Our Handle (Tsuka) wrapping service has been satisfying customers for over 23 years. Our continued success is a result of our skilled craftsmen who have been 'Japanese' trained in the subtle nuances that make a wrapped handle look Great instead of merely acceptable.

Our handle wrapping and sword restoration service is available to owners of WW-2 Military Swords, Samurai-era Japanese Swords, Chinese-made copies of Japanese Swords and domestically-forged Japanese-style replica Swords... just about anything but the $25 gift shop display swords.

Learn More about our Silk, Leather and exclusive Martial Arts Tsunami handle wrapping cord (Tsuka-ito).

Learn More about Stingray Skin - aka: Samé, Samégawa.

View an illustrated breakdown of a sword handle (Tsuka)

Tsuka-ito Samples are also available - A sample pack consists of short strips of all materials in all available colors.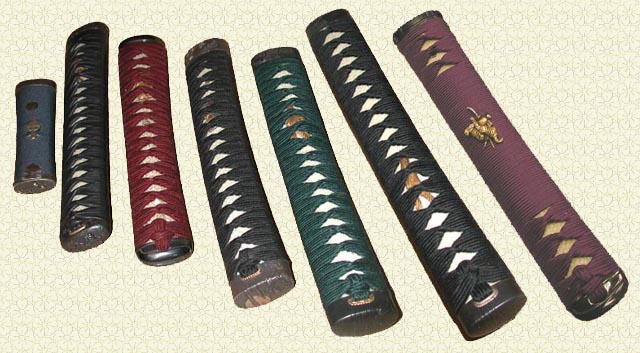 #1 Grade Leather (Black or Brown)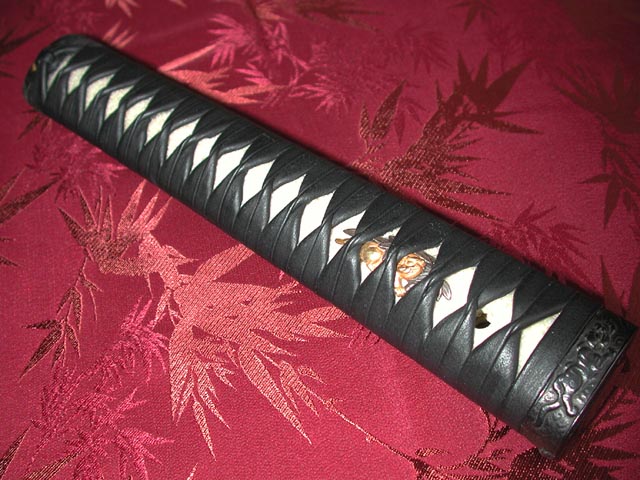 Silk String Wrap

Battle Wrap

Battle wrap ( below ).. cord wrapped over the top of Menuki

Tsunami Cord (Note that Black-lacquered Samé is a free upgrade)

Standard Wrap

Tachi Wrap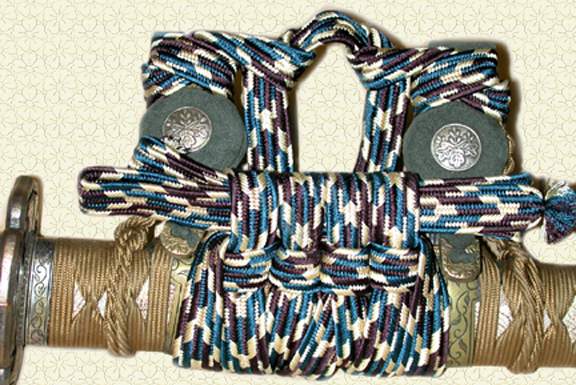 Several of the above images of Fred Lohman Company products and workmanship have been misappropriated (aka stolen) and pictured on other web sites. Careful who you trust with your sword ...
Tsuka (Handle) Replacement
We recommend that customers scrutinize the wood core/foundation of their Handles for shrinkage, cracks and other damage, especially in the area of the Mekugi-ana (peg hole). Most Japanese Swords are at least 70+ years old and in many cases have not been well cared for. Wood deteriorates and if damage is obvious, safety becomes an issue a complete replacement of the Handle is often recommended.
Mailing your Tsuka (Handle)
Note: Please do not send swords or handles without first calling or e-mailing us to confirm turnaround time and to receive any special shipping instructions.

It is recommended that you use the U.S. Postal Service to mail your handles or swords and to make sure to send them via Insured Mail. Unlike UPS, FED-EX or DHL, our Letter Carrier will not leave your property at our door. 

As a special favor to all of us here at the Fred Lohman Company, please no Packing Peanuts!

If you are unable to remove the handle from the sword, it is best to send the entire sword but return postage/insurance charges will be added. Do not send your Sword Bag.

We try to maintain a turn-around time of 3-4 weeks for Handle Repairs.
Handle-Wrapping Prices

---
Call for details: 503-282-4567
-or- write to:
FRED LOHMAN - 3405 N.E. Broadway -
Portland, OR 97232-1818 U.S.A.
---